The series
Come ride and run with inspirational Black athletes, and legends in sport during special group events all year round. Discover the warmth of this active community on Zwift that works towards a more just and level playing field for all.

As part of our year round efforts to support the Black community Zwift has sponsored the California Conference for Equality and Justice, LA Bicycling Academy, and Sporting Equals — three organizations committed to driving change.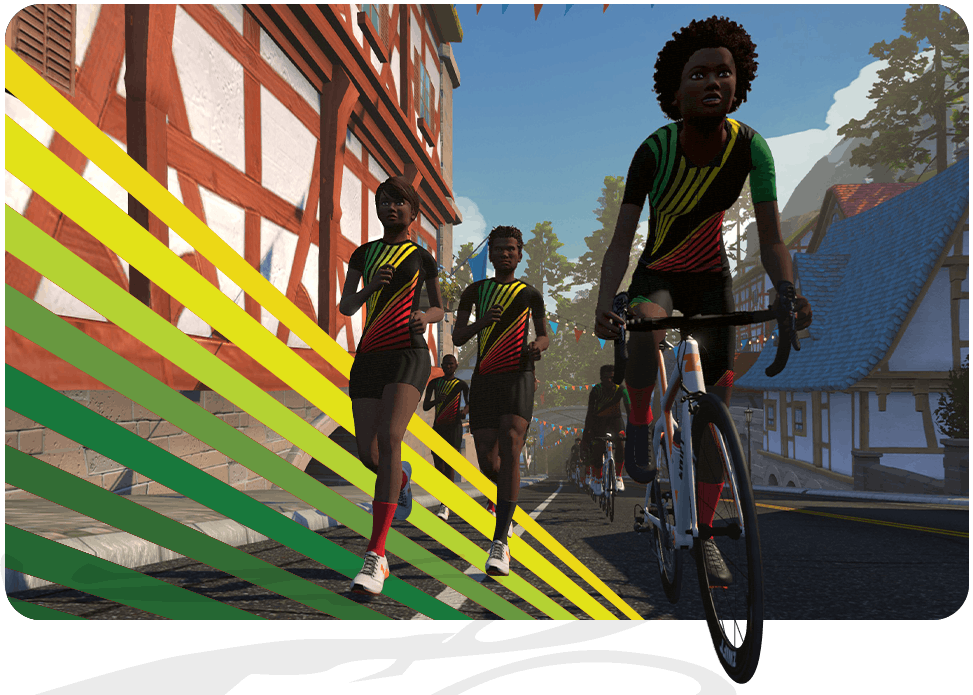 Jools Walker

Get to know activist Jools Walker as she reveals why life is better by bike

Rahsaan Bahati

Learn more about the 10x National Crit Champion

Mo Farah

Learn all about multiple Olympic gold medalist, World and European champion Mo Farah during a group run through...

Level Up Movement

Learn more about Erica Elle and the importance of representation

Nelson Vails

Learn more about the 1984 Olympic silver medalist

Kofi Kyei

Learn more about Kofi Kyei and how he's using sport to unite people around the world.

Aisha Praught-Leer

Learn more about Aisha and what it means to be a role model

WCCC

Join a group ride with Women of Colour Cycling Collective for connection, inspiration, and motivation for all...
SOCIAL IMPACT PARTNERS
Zwift proudly partners with non-profit organizations committed to advocacy work such as driving positive change and increasing equity for traditionally marginalized communities. This partnership empowers both organizations to meet their goals for increasing diversity.
Los Angeles Bicycle Academy

A Los Angeles-based non-profit that works with underserved communities to teach the positive impact of cycling

California Conference for Equality and Justice

A nonprofit aiming to eliminate bias, bigotry and racism through providing anti-bias education and training...

Sporting Equals

A nonprofit that aims to elevate and enhance the opportunities available to the ethnically diverse communities...
Unlock the exclusive in-game BCS kit and run shirt when you complete any ride or run.
FAQ
What is the Black Celebration Series?
The Black Celebration Series is a year-long series of events highlighting the vibrance the Black community brings to Zwift.
What type of events are these and when are they?
These community rides and runs will be no drop experiences. Ride leaders will maintain 1.5-2 w/kg. Each event will last 60 minutes. All February events will take place on the Ocean Cliffside Lava Loop. February runs will also take place on the Ocean Cliffside Lava Loop and will last 20 minutes.
Who will be leading a ride this February?
In the month of February, the following people/groups will be leading a group ride:
Saturday, February 5: The Black Foxes and Rahsaan Bahati
Saturday, February 12: David Lipscomb
Saturday, February 19: Damon Turner and Black Girls Do Bike (BGDB)
Saturday, February 26: Kings Rule Together (KRT), Queens Rule Together (QRT), and Black Girls Do Bike (BGDB)
Who will be creating the February 'Workouts of the Week'?
In the month of February, the following people/groups will be curating that week's workout:
Jan 31 - Feb 6: Ayesha McGowen
Feb 7 - Feb 13: David Lipscomb
Feb 14 - Feb 20: Rahsaan Bahati
Feb 21 - Feb 27: Maise Wimbush
What else is Zwift doing to progress Diversity and Inclusion?
Zwift is committed to advancing diversity and inclusion within the game, within the organization, and within the larger Zwift community. Learn more about our efforts here.