Sorry, this content is not available in your chosen language
Download
Sorry, this content is not available in your chosen language
Change your country or region.
Americas
Asia Pacific
Europe
World
Tour de Zwift is a multi-stage party that brings together the entire run community.
Together we'll explore routes on all seven worlds. Join epic group runs and we'll conquer the roads as one. Finish all stages and unlock a kit to light up your locker.
Tour de Zwift Schedule
Find a time and schedule each stage when convenient.
Prepare to Run
Get up to speed and be ready to rock Tour de Zwift. We'll take you through what you need to run, how to interact with others, and more.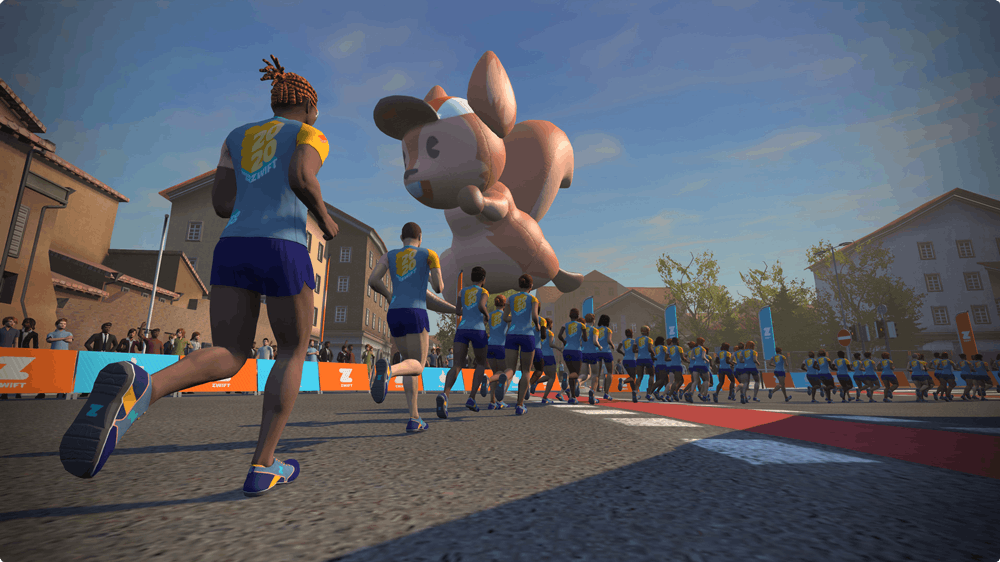 RULES & FAQ
When does Tour de Zwift start and finish?
Stage 1 starts on Jan 12th. The final stage finishes on Feb 8th. 
What if I miss a stage? 
Makeup stages will be available from Feb 9th to Feb 16th, after Stage 7 completes. During that one week, we'll host events to cover all 7 stages. Event slots are limited, so make sure you plan to finish the missing stage accordingly.
What do I get for completing all stages?
We won't spoil the surprise, but it's nice and shiny. Finish the tour and see it for yourself!
Are there races I can run?
No races are planned at this time. We encourage you to join a group run at a pace you are comfortable with to knock out each stage. If you feel taking on a new challenge, up the pace group by one and see if you can keep up with the pack.
Do you need to both Ride and Run to complete Tour de Zwift?
No. We encourage you to try to complete both Tour de Zwift challenges but you will not need to do both.
I'd like to run and ride all of Tour de Zwift.
We are impressed by your levels of heroism! You'll receive TWO unlocks for your achievements.
How should I determine what pace group I am in?
Look at your 10k time to determine how fast your pace is. Keep in mind that these runs are long to allow you to see more of the worlds.
How long do I have to complete each stage?
Each stage will be available for four days before moving onto the next.
Can I free run or race the distance without joining a group run?
No, you must join the group runs to complete the stage. We will offer multiple group runs per day to help with schedules.
Can I complete all of the stages whenever I want?
No, as the Tour follows a specific order. You'll need to wait for the next stage to be available in order to complete that stage.