Ready to take your running to the next level? Compete for a spot on our fully-supported Run Team, which trains to race at a major marathon event. There are additional requirements to have in mind in order to be a team contender.
TEAM REQUIREMENTS
To be eligible for team selection, athletes must:
Graduate the Zwift Academy program
Wear a heart rate monitor and cadence sensor for Baseline and Finish Line events
Complete either the long or short workouts 
Sign the Terms & Conditions
FAQ
When does the Zwift Academy Run start and finish?
The Qualifying period begins on October 4, 2021, 7:01a UTC and ends November 29, 2021, 9:59a UTC.
The team selection will be held in late-2021. More details to follow. 
What do I need to do to graduate from Zwift Academy?
To graduate from the Academy, complete the program's 8 structured workouts and 2 additional events (5k Baseline and Finish line run). All requirements need to be completed between October 4th and November 29th. You'll find the workouts in a folder called 'Zwift Academy Run 2021' on your workout menu screen. 
Baseline runs will be scheduled in the first 4 weeks of the program (Oct. 4 -Nov. 1) and Finish Line runs will be scheduled in the last 4 weeks (Nov. 1 - 29) of the program. You will need to complete at least one Baseline Run and Finish Line Run to graduate.
What do I need to do in order to be eligible to make the Zwift Academy Run team?
To be eligible for Team selection you must graduate from the Zwift Academy Run program. This means completing all 8 structured workouts (short or long versions) and both the *Baseline and Finish Line runs, which are scheduled events and can be found on the events calendar.  
*It is mandatory for Baseline and Finish Line Runs to be completed with a heart rate monitor and cadence sensor.
What will I need to do to ensure my runs qualify me for the Zwift Academy Run team?
Register for Zwift Academy Run 2021 and complete all 8 structured workouts from either the training folder labeled Zwift Academy Run 2021 or complete the Zwift Academy Workouts on the Event Schedule. You can choose between short workouts or long workouts or a mix of both.  
In addition to completing the workouts that are required, you will also need to complete the Baseline and Finish Line runs with a heart rate monitor and a device that tracks cadence (for 5k Baseline and Finish Line runs only). Both of these are required in order to be considered for the Zwift Academy Run Team.
Anything new this year?
This year we've added two new features to ZA Run: Short/Long workouts and Baseline/Finish Line Runs.
The Short workouts and Long Workouts allow Zwifters to decide which program's training load is appropriate for their experience level. 
The Short workouts are 25-35 minutes long and are a condensed version of the Long Workouts. The Short Workouts are ideal for new runners, less experienced runners, or time-crunched athletes.  
The Long Workouts are 40-60 minutes long and offer increased intervals and tempo durations. These workouts are ideal for returning seasoned runners looking to improve their speed and endurance. 
The Baseline and Finish Line Runs are required to graduate Zwift Academy Run. These replace the 5km races from last year and will be used to measure performance gain from the program. 
The Baseline Run is meant to be your first run of ZA and give you a current 5km pace. Use this run to input new paces into Zwift or adjust your paces to align with your current fitness. 
The Finish Line Run is meant to be the last event in your ZA program. This run should allow you to use the fitness and education from the program to put in a good effort and attempt a new PR for 5km.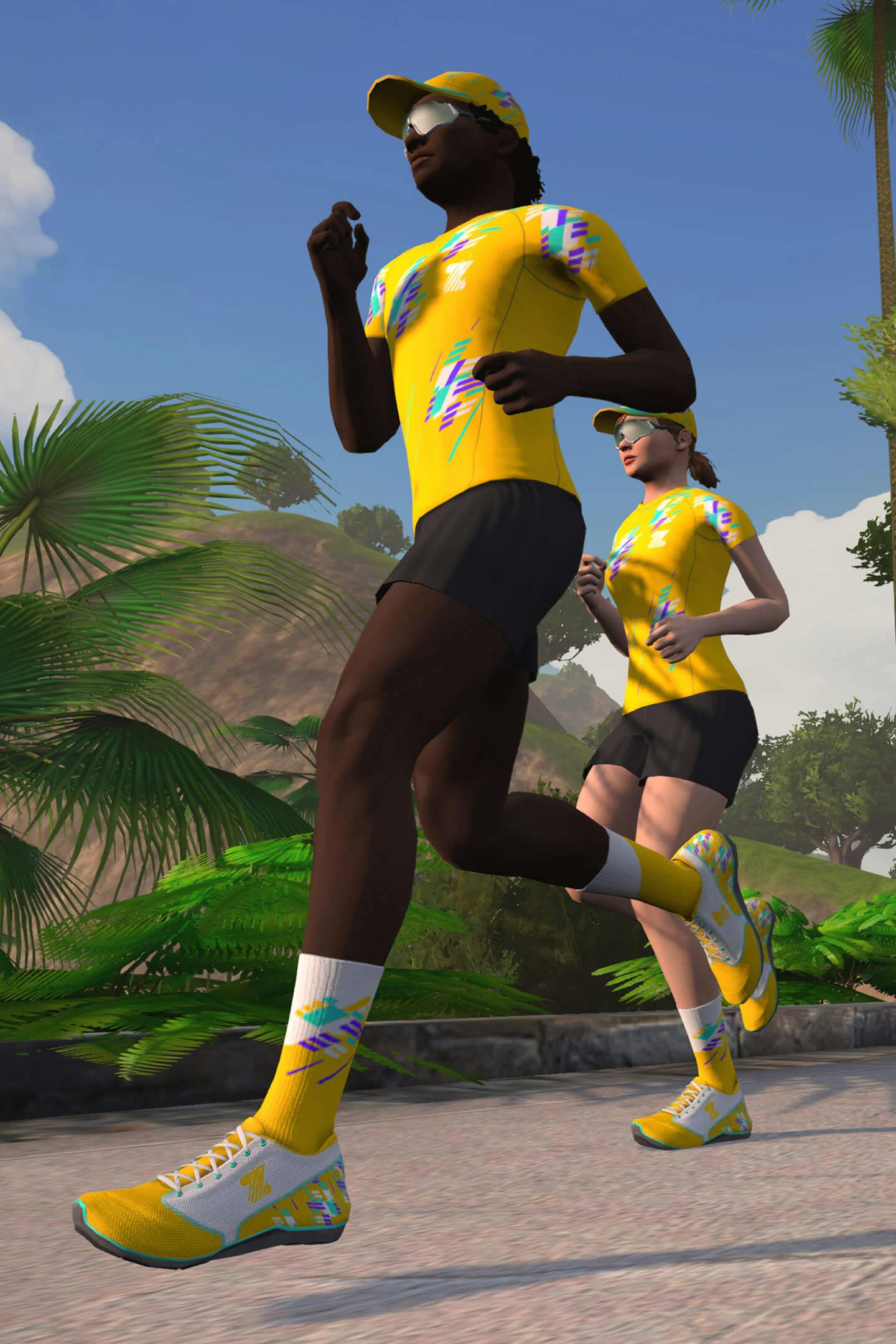 Past Team
Last year's inaugural Run Team is slated to run the 2021 Berlin Marathon. The team is an international mix of athletes.
Ivan Alonzo, 38

Texas-based, Ivan is a runner pretending to be a cyclist pretending to be a triathlete.

Naomi Feder, 38

An ultramarathon runner, Naomi hopes to inspire and empower women of all abilities.

Max Rahm, 23

Born into a family of runners, Max never stops in his reach for a personal best.

Katie Sloane, 31

A lover of the outdoors, Katie's ran in several ultra-trail races around the world.

Deb Zelisko, 56

Deb found Zwift Run during the pandemic and took it all the way to a spot on the ZA Run team.

Youiti Kado, 51

Youiti won a ticket to the Tokyo Marathon, which kickstarted a daily habit that hasn't slowed down.