The men hit the dirt in Stage 4 of the Tour of Watopia Pro-Am! Racers fought their way through the jungle to a photo finish sprint.
Calmer downhill sections led to tough sprints and uphill battles
Kenneth Mercken (BZR) first at the finish, Samuel Brannlund (SZ) wins most points
Jonathon Levie (KISS Racing Team) still in GC lead, but others closing in behind
It was the second of three men's stages. Riders from Zwift community teams and professional cycling teams are competing in a points-based classification. Each of the racers earn points for their position at the finish and at designated intermediate sprints or climbs. At the end of the stage, racers are ranked based on how many points they claimed.
There's also a General Classification (GC), which adds together each rider's points from all three stages. The woman with the most points across Stages Two, Four, and Five (women race Stages One, Three, and Five) will win the Tour of Watopia.
Missed the race? Read the recap and check the results. Provisional results: men and women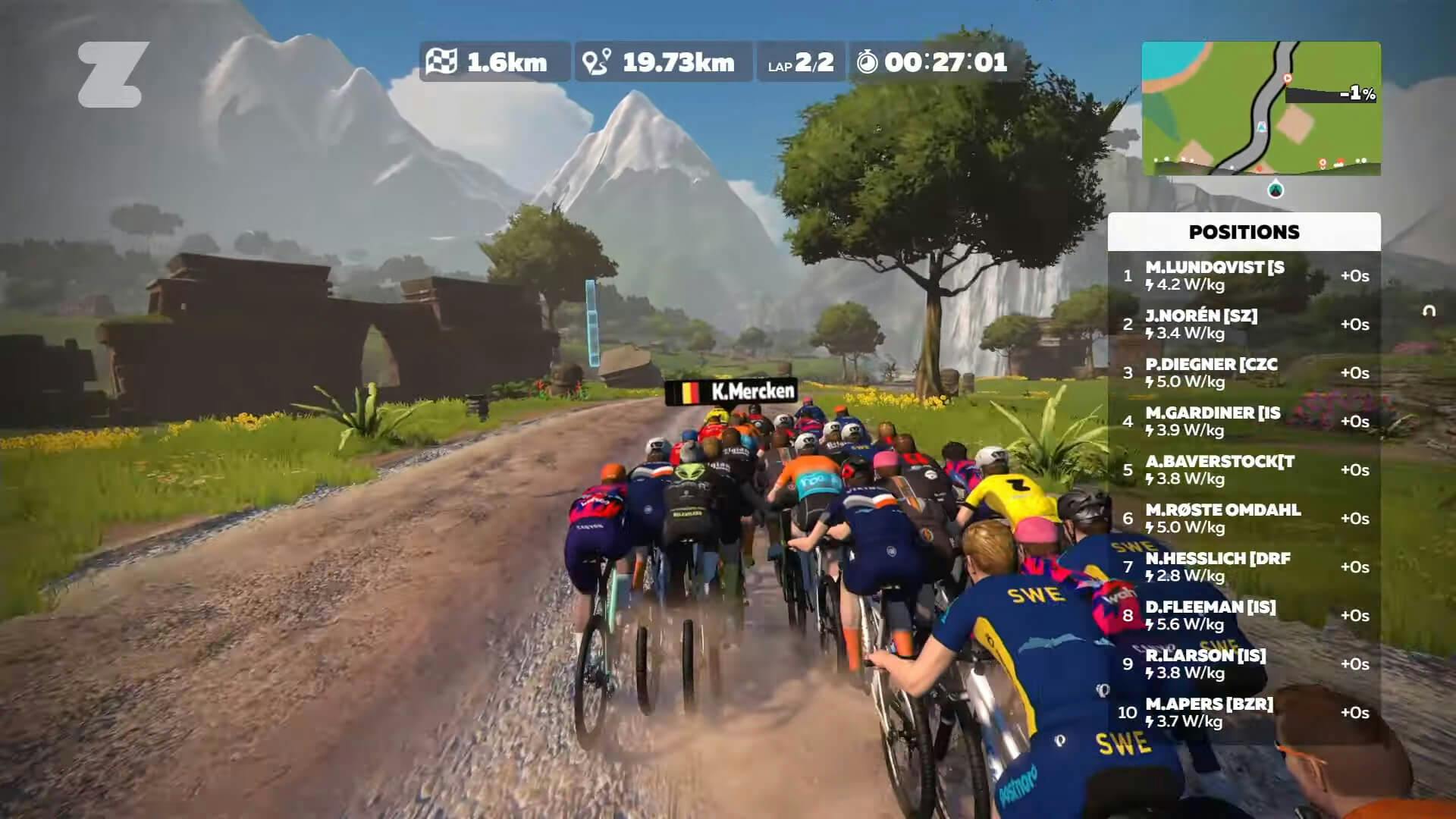 Course: Jungle Circuit
Racers took an expedition to the jungle this time in the men's Tour of Watopia Pro-Am. After a lead-in riding down through the tropical foliage and past some Mayan ruins, they began two laps of an 8-kilometer circuit on mostly dirt roads. Each lap starts with a gradual climb that goes up to a wooden bridge hanging across a ravine. The bridge creates a short ramp on either side, and the small kicker coming back up can catch some off-guard. Then, riders continue on the loop with a gradual descent. The lap ends with a short ride through an atmospheric cave, with both paved roads and wooden bridges. Then there's a small section of dirt road for the finishing straight beside a waterfall.
Stage Highlights
Before the start of this stage, riders had a choice to make. Road bikes would be too slow on the jungle circuit's dirt roads. Should they equip mountain bikes, which are heavier but ride faster through dirt, or gravel bikes, which are lighter and roll smoother on the route's wooden and asphalt surfaces?
Most of the peloton chose mountain bikes, with a handful of gravel bikes in the mix. At first, nearly all of them stayed together, as the lead-in took the riders down a gradual descent.
With 12.5k to go, Phillip Diegner (Canyon ZCC) briefly rolled off the front when the peloton got to the hanging bridge. He was caught quickly, but this positioned him well for the kick back up to the other side. These surges were enough to bring the group down from 66 to 47. Even then, the group was still large and going strong.
Then came the intermediate sprint. Odd Erlend Hansen Berg (KALAS) decided to go for it early, using an Invisibility Ghost PowerUp to sneak away into the cave! He got a 4-second gap, but the pack was chasing hard, led by the Canyon ZCC team. Berg almost made it to the line at the waterfall, but the bunch overwhelmed him. It was P. Doving (Team X) who took top points, followed by Holden Comeau (Indoor Specialist) and Samuel Brannlund (SZ).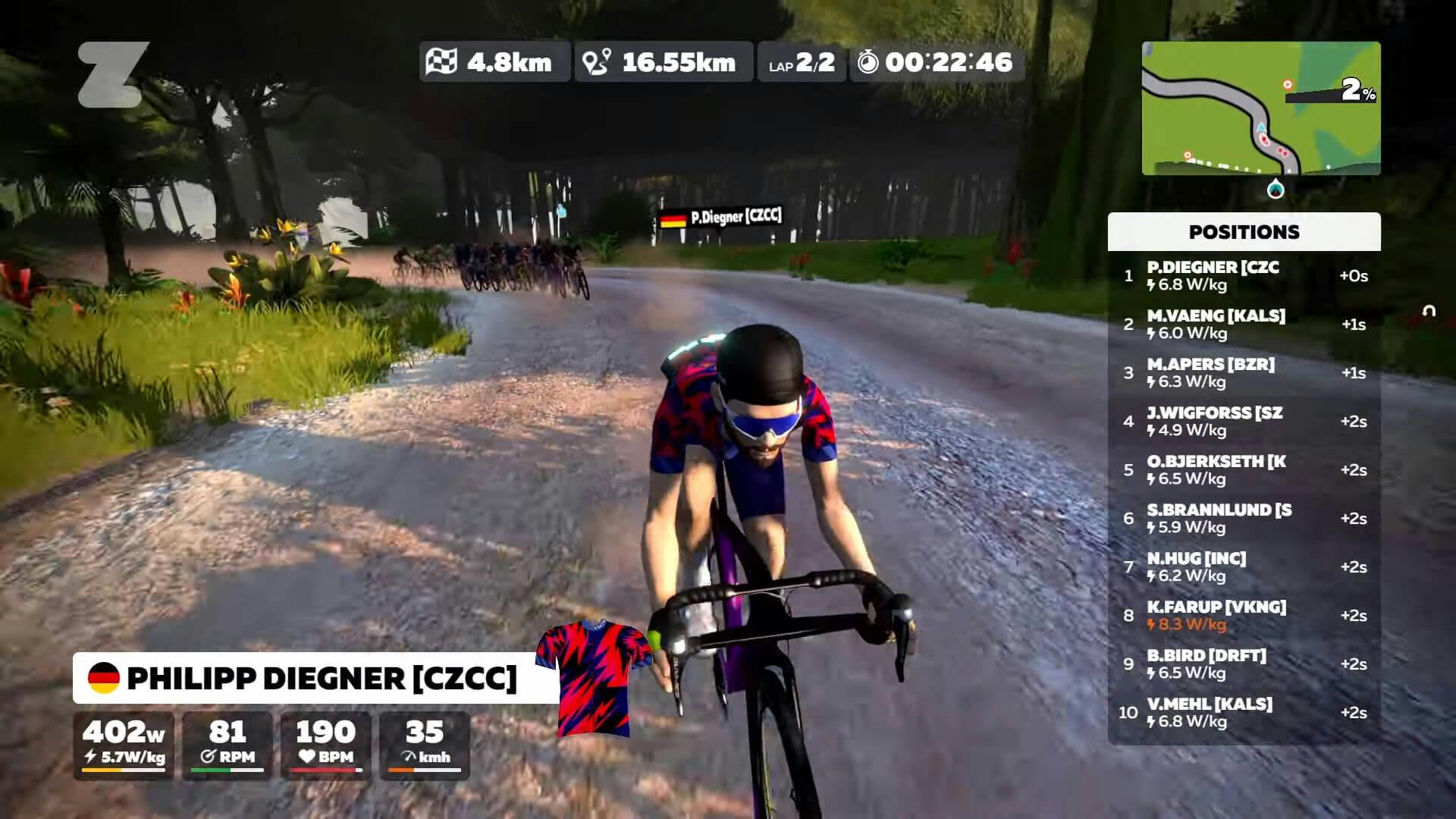 Bell Lap
Now there were more splits, as riders struggled to group back together on the gradual climb. A few minutes into lap two, the front group had solidified with 35 racers.
With 5.5k to go, Morten Vaeng (KALAS) powered off the front! He didn't go far, though, dangling just in front of the bunch and forcing them to work harder. Once he was caught, Diegner tried the same thing, shedding a few more riders off the back as he set an unforgiving pace. By the time Diegner came back at the hanging bridge, there were 29 racers in the group.
The race calmed down again as the bunch rolled through the jungle toward the cave and waterfall. The first to emerge from the dust was Diegner, attacking with 1 kilometer to go. The peloton reacted quickly, though, and several seconds later some riders opened up early sprints. Nico Hesslich (Team Draft), along with James Phillips (Canyon ZCC), used Breakaway Burrito PowerUps to keep the others from catching their draft. But they couldn't stay in front. Riders flowed around them using Helmet Aero Boost PowerUps. Lionel Vujasin (Canyon ZCC) seemed like he was holding everyone off, but one last dig from a few other racers made the sprint a photo finish! Kenneth Mercken (BZR Cycling Team) crossed the line first, and his BZR teammate Michael Apers was third. Phillips managed to stay up there after his initial attack and came in second.
Jonathon Levie (KISS Racing Team) still holds onto his overall lead, but Ryan Larson (Indoor Specialist), Michael Apers, and Canyon ZCC teammates Vujasin and Phillips are gaining. 
Note: Results are provisional and will be finalized after performance verification takes place.
Individual Points Podium – Stage 4
Samuel Brannlund (SZ) – 41 points
Lionel Vujasin (Canyon ZCC) – 37 points
James Phillips (Canyon ZCC) – 35 points
(tie) Kenneth Mercken (BZR) – 35 points
General Classification
Jonathon Levie (KISS Racing Team) – 74 points
Ryan Larson (Indoor Specialist) – 62 points
Lionel Vujasin (Canyon ZCC) – 61 points
James Phillips (Canyon ZCC) – 60 points
Michael Apers (BZR Cycling Team) – 58 points
Samuel Brannlund (SZ) – 49 points
Holden Comeau (Indoor Specialist) – 38 points
Johan Wigforss (SZ) – 35 points
Vidar Mehl (KALAS) – 29 points
Alex West (Canyon ZCC) – 23 points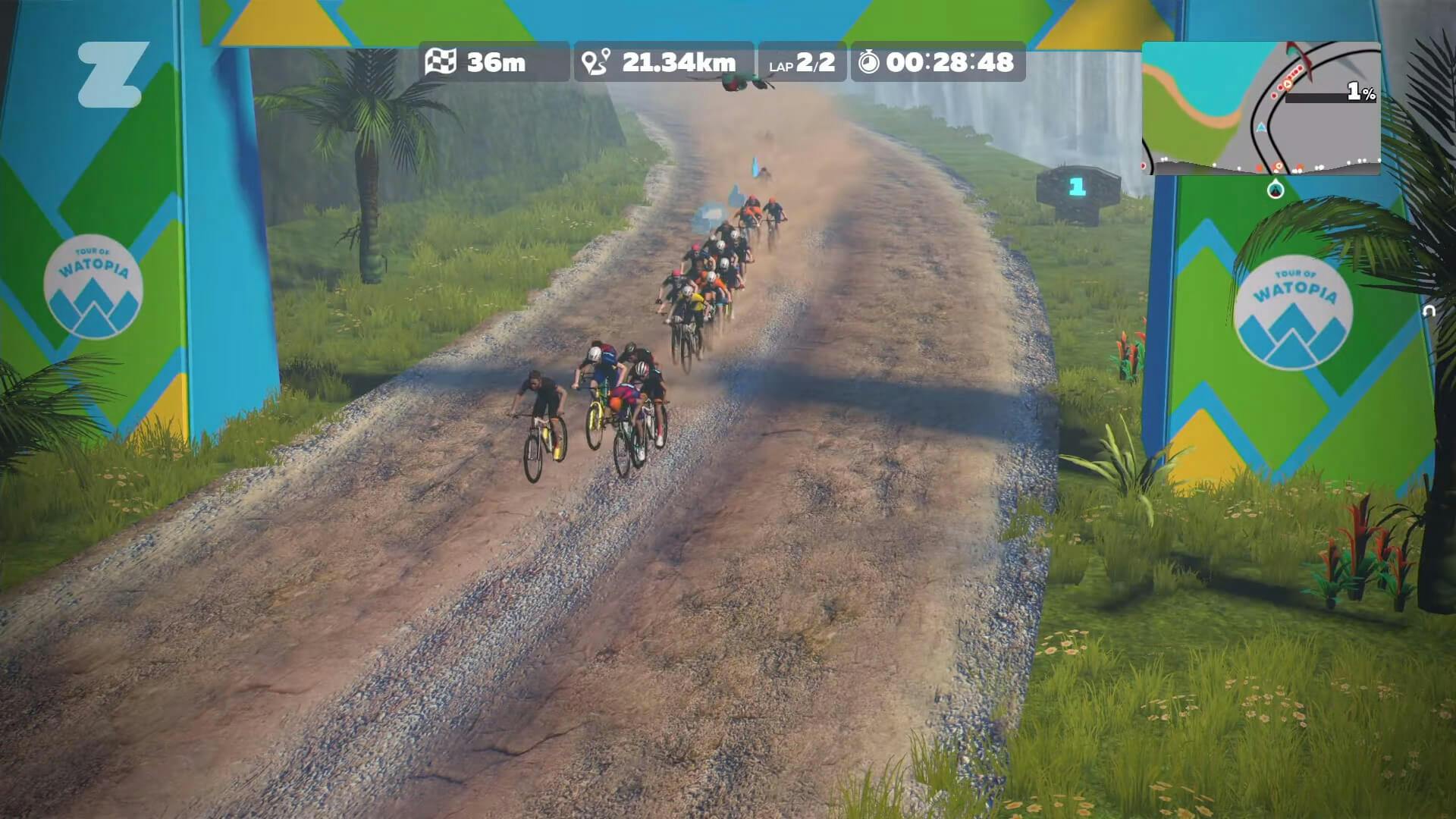 Racer Reactions
After the race, Mercken said he had thought he might struggle on the climbing part of the circuit. But when the first lap went well, he knew he'd have a chance at the sprint if he could hang on. 
His BZR teammate Apers, who is now fifth in the General Classification (GC), said he suffered on the first uphill climb, but the downhill gave him a chance to recover.
"I thought for a second that I was going to win, but at 50m before the finish my legs started to cramp up and I had to sit down until the finish," Apers said. "But overall I'm super happy with this result. I think it's my best performance in these Pro-Am races so far."
Mercen said the team discussed and compared bikes a lot before the race.
"The discussion got quite technical but in the end we all decided to go for a MTB (mountain bike), as most participants," he said.
The whole Canyon ZCC team decided to use gravel bikes. Vujasin said this was to get more speed on the paved and wooden section leading into the sprint.
The choice seemed to work for them, because Canyon ZCC mopped up a lot of points this stage. Vujasin is in third place overall, and his teammate Phillips is in a close fourth. 
Phillips said he was hoping for a Helmet Aero Boost in the finale, but his legs felt good due to a few easy days, so he still had a strong sprint.
"The prime sprint put a lot of the guys in the red," he said, "and with a tough climb straight after it (we) saw a few of the good riders dropped, which enabled us to move up GC a little. It's looking close at the top of GC now and all to play for, especially with 4 or 5 sprints in the next race. I think that will suit me and Lionel."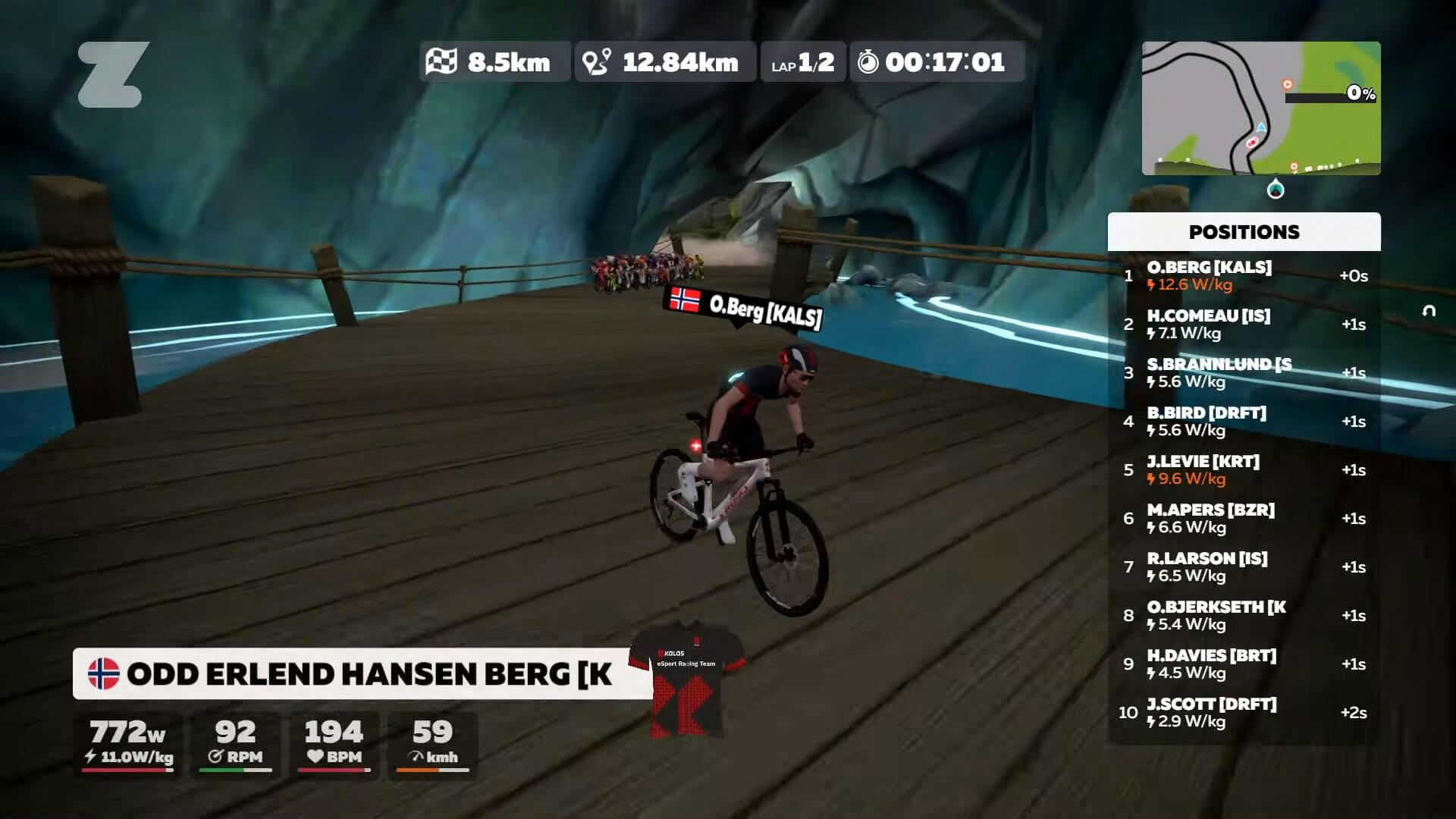 Next Race: Stage 5
Tune in live for the final Tour of Watopia stage for both men and women on March 24 at noon PDT (7 p.m. BST)!