ABOUT Pride On
Let's put in the work with our LGBTQIA+ community this June. Ride and run with friends and allies, as well as LGBTQIA+ Zwifters during special events every Tuesday and Saturday! 
Feeling festive? Get ready to flood Watopia with Pride Ons—rainbow Ride Ons for Pride On fun.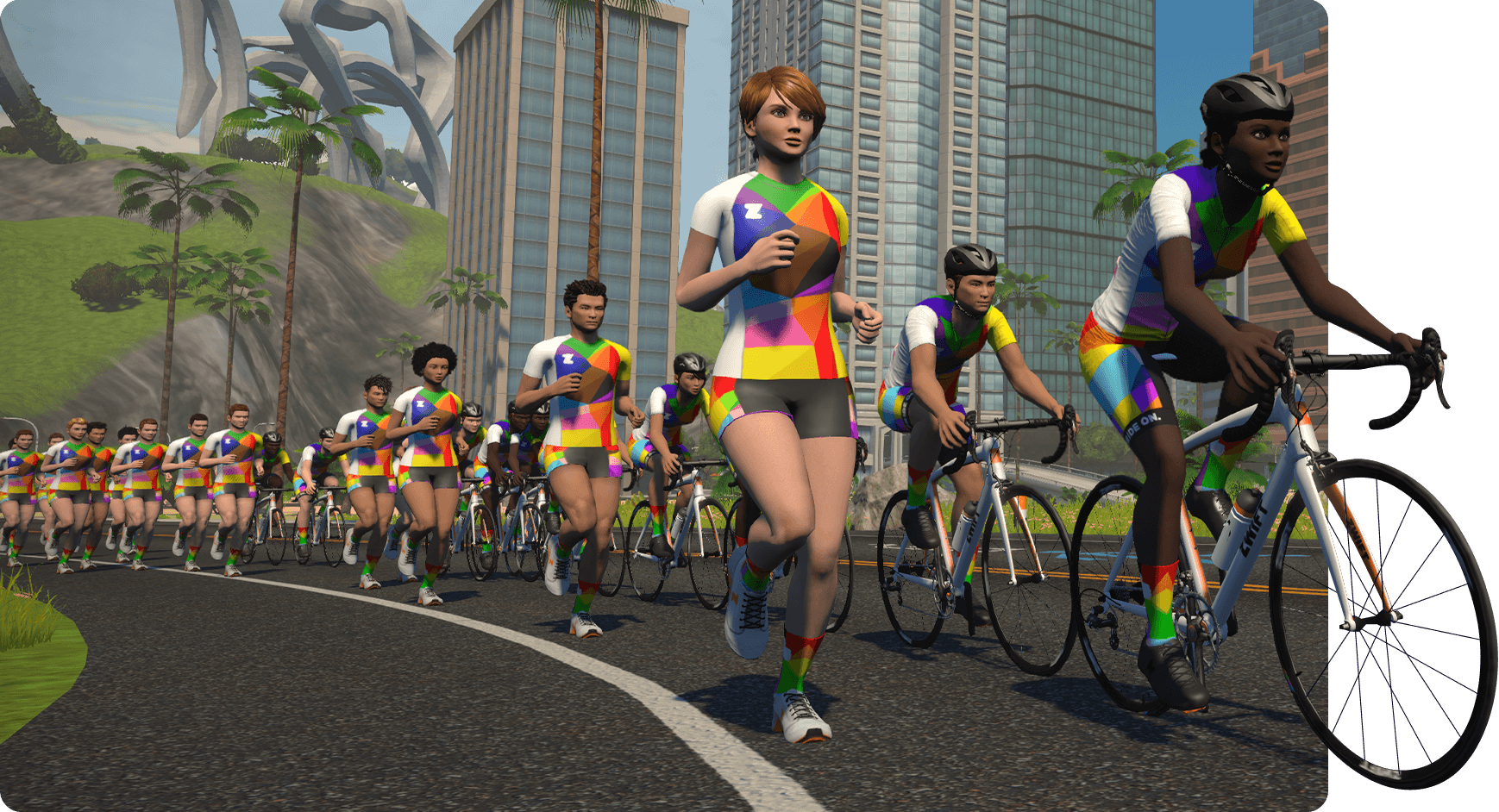 ABOUT ZWIFT X ATHLETE ALLY
The admirable and awesome Athlete Ally is in for another Pride! This non-profit educates athletic communities at all levels—governing bodies, teams, and individuals—about LGBTQIA+ inclusion in sports.
Once again, Zwift is contributing $25,000 to Athlete Ally to help fund this critical work.
ABOUT AIDS/LIFECYCLE
For more than 28 years, AIDS/LIFECYCLE has worked tirelessly to raise HIV/AIDS awareness and funds to help fight this global pandemic. Every spring, the organization famously hosts a seven-day bicycle trek from San Francisco to Los Angeles. This life-changing journey is going virtual for 2021. Join them for a Zwift ride on June 13th.

Lea Davison

Lea is a 2x Olympian from Jericho, Vermont and co-founder of Little Bellas, a mentoring on mountain bikes...

Chris Mosier

The founder of transathlete.com, Chris is the first known trans athlete to join a U.S. national team different...

Abby Levene

Abby Levene is a writer, editor, and podcast producer in addition to a professional endurance athlete based in...

Shanaze Reade

The world champion BMX and track racer regularly raced and beat the boys when she was a teenager.
UNLOCK INFORMATION
Put in work with our LGBTQIA+ community during Pride rides and runs every Tuesday and Saturday in June. Suit up, make new friends, and let the Pride Ons fly. Don't worry about keeping up: the pace is casual to keep it social. Finish any event to unlock a piece of kit from the 2021 Pride On collection! All new, your avatar will be ready for anything in the redesigned jersey/running T, shorts, and socks!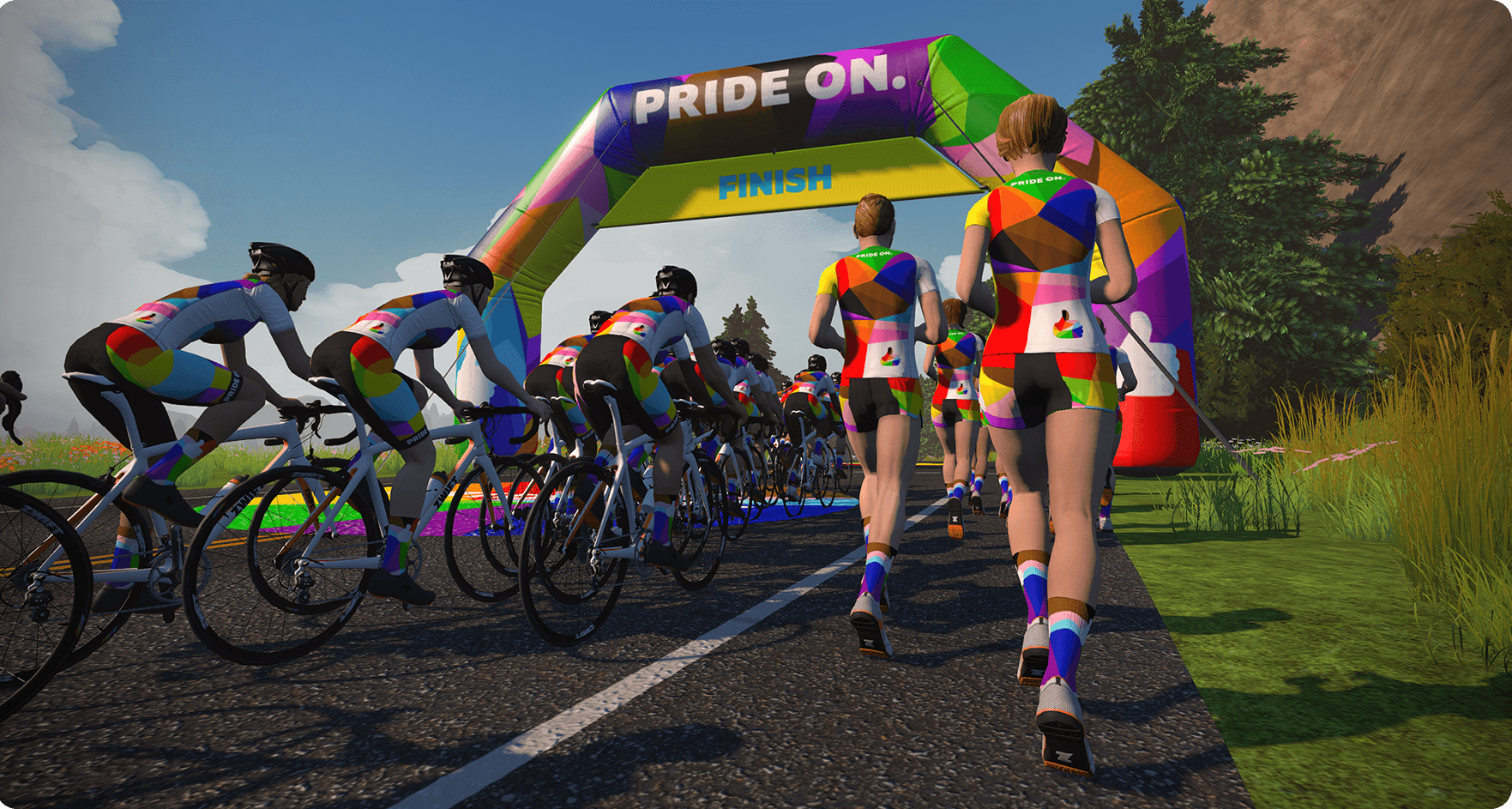 FAQ
What type of events are these and when are they?
Pride On events include both rides and runs. They're at a social pace. Rides and runs take place daily during June, from Monday to Saturday.
June 13th is a special day dedicated to AIDS/LifeCycle events. These rides honor the 1.2 million people living with HIV.
How is Zwift supporting Pride month?
Zwift is continuing its charitable support of Athlete Ally with a donation of $25,000. And because one month isn't enough, Pride On events will continue throughout the year!
We encourage those who are willing and able to donate to Athlete Ally or AIDS/LifeCycle at zwift.com/prideon
Internally, Zwift is committed to educating our employees about LGBTQIA+ issues so that we are better allies.  Subject experts are leading training sessions and discussions to help us achieve this critical goal.
What is Athlete Ally and what do they do?
Athlete Ally is a non-profit that educates athletic communities at all levels—governing bodies, teams, and individuals—about understanding and removing obstacles to inclusion for LGBTQIA+ people in sports. Athlete Ally also offers guidance on building inclusive communities, teams, and organizations.
Why is Zwift supporting Pride month?
We want to work towards making Zwift and sports more inclusive.
Why are there extra colors in Zwift's Pride On designs?
This year, the inspiration for Pride On drew on multiple designs. The Mosaic pattern provided the overall theme. We borrowed new colors, hues, and tints from numerous LGBTQIA+ flags like the Philadelphia Pride Flag, Daniel Quasar's Progress Pride Flag, and Monica Helms' Transgender Flag. All with a single goal in mind: a new design rooted in representation, inclusion, and progression.