Celebrating the W's
Dedicated to women everywhere, the Women's Ride and Run Series is a celebration of the strength, leadership, and excitement this inclusive and welcoming community brings to Zwift. Events kick off March 1!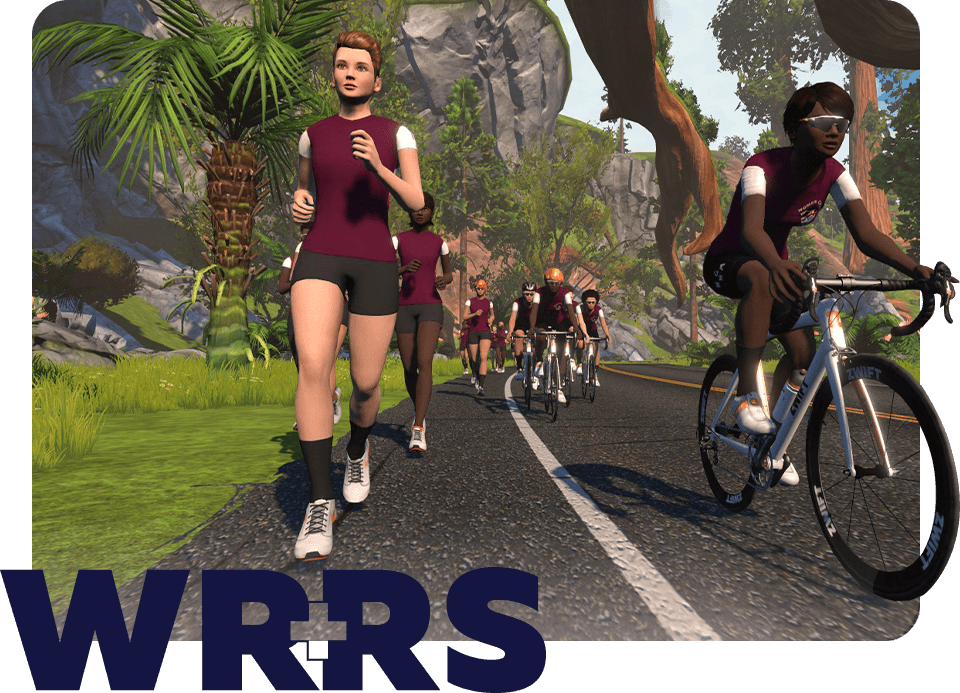 All girls. All women. All sports.®
Zwift is proud to support the Women's Sport Foundation, which exists to enable girls and women to reach their potential in sport and life. Founded by Billie Jean King in 1974, WSF is building a future where every girl and woman can #KeepPlaying and unlock the lifelong benefits of sport participation. All girls. All women. All sports.®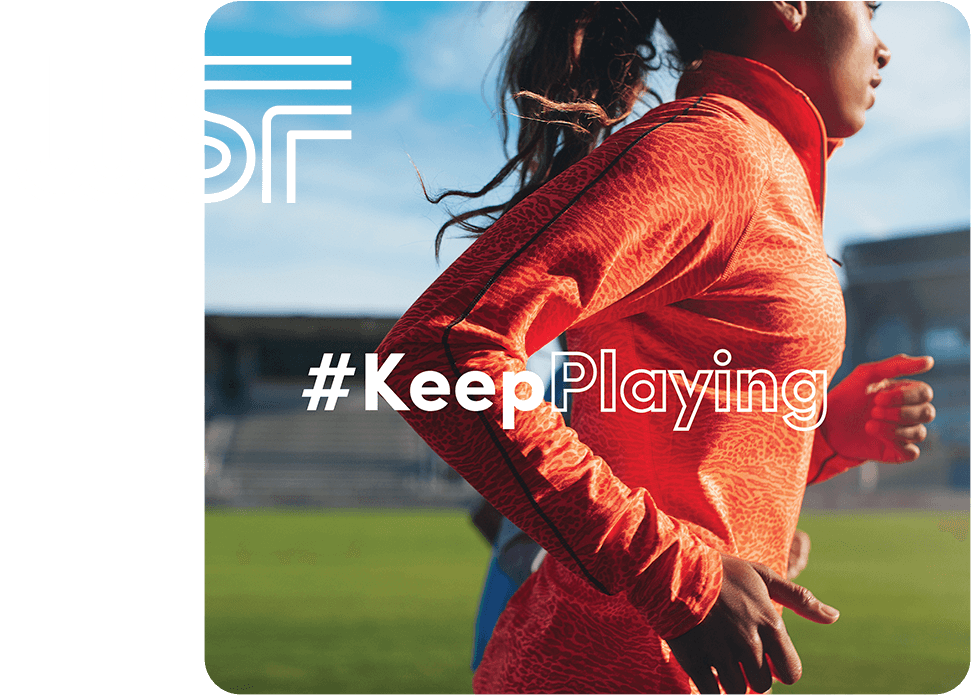 NGNM x Zwift
March 28th | 8am PDT & 8am GMT
No Gods No Masters (NGNM) is a lifestyle cycling brand dedicated to empowering women through cycling with the ambition to connect as many of us as possible around the globe.
Join us as we tackle Ven-Top—Zwift's toughest in-game ascent! Let's reach new heights and celebrate the power of this amazing community together!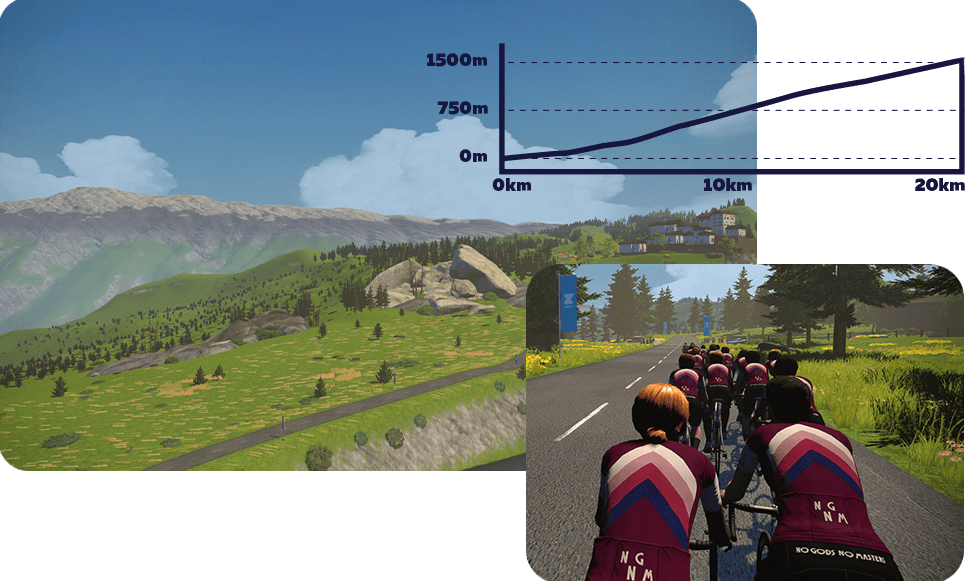 Get the in-game and real life Kit & Run Top
Earn the in-game WRRS Ride Kit and Run Top when you complete one group event. Plus, score the real life jersey and Run Top available from No Gods No Masters.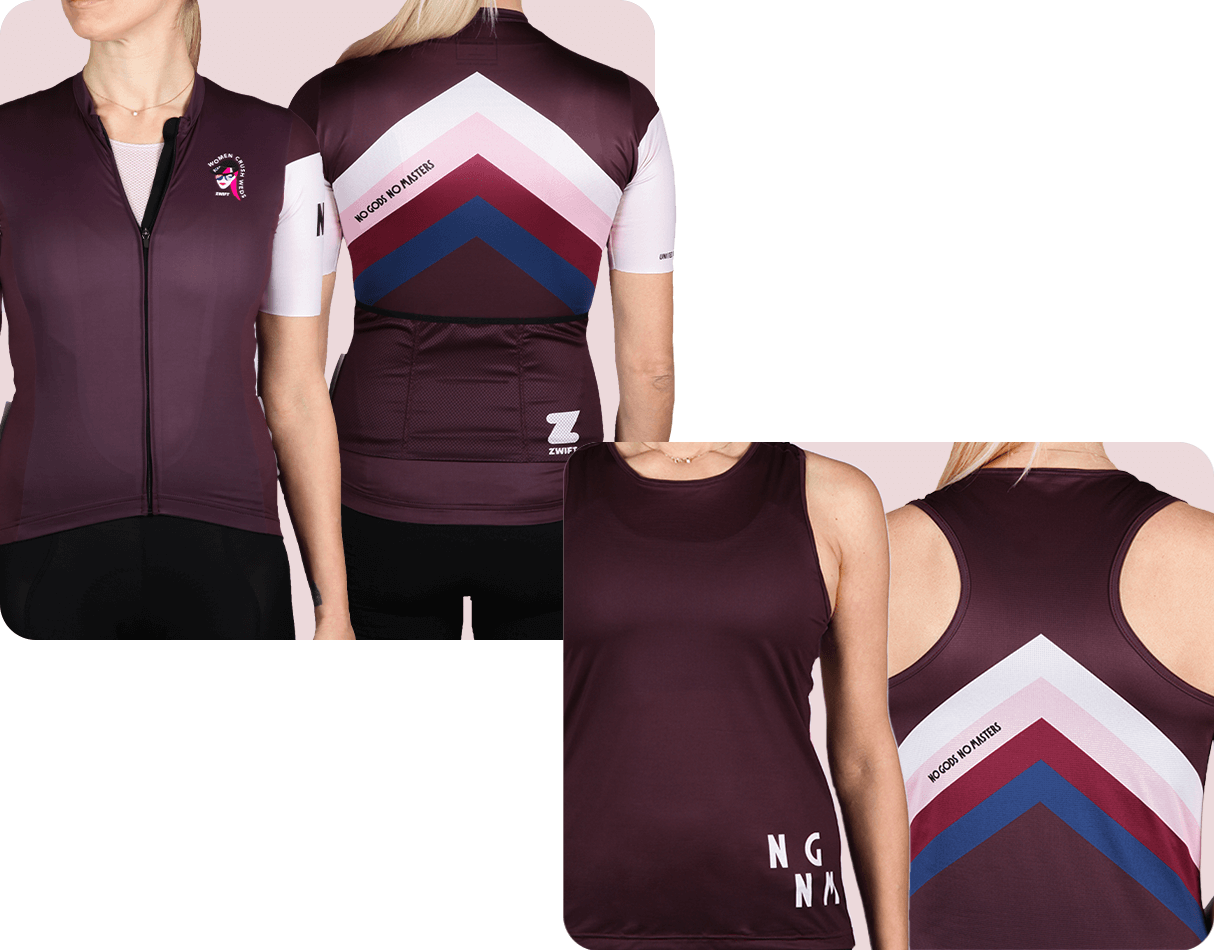 FAQ
Which routes will we ride and run during the series?
This year our group rides and runs will feature multiple routes, with a dedicated route assigned to specific days of the week. All rides will be Category E—for all women—and will be led at a general pace (1.5-2w/kg). Group runs will be paced roughly between 5:30-6:15min/km—or decided by the group in the start pen at the time of the event. Here are the details, broken down by each day of the week:
Bike Event Schedule:
Sundays and Mondays—Ocean Lava Cliffside (11.8 miles, 479')
Tuesdays—Tempus Fugit (10.8 miles, 0')
Wednesdays—Sand & Sequoias (12.6 miles, 479')
Sunday, March 28—Ven-Top Challenge (20.9 km / 13.0 miles, 1534 m / 5,033')
Run Event Schedule:
Sundays and Mondays—Chili Pepper (4.9 miles, 0' elevation gain)
Wednesdays—That's Amore (4 miles, 0' elevation gain)
Is this a race?
These events are socially-paced rides and runs intended to encourage Zwifters to connect with the women's community. Share kudos, empower one another, and meet new friends throughout these fun group events!
Is there a charity component to WRRS?
Yes! Zwift is donating $25,000 to the Women's Sports Foundation (WSF) to support its mission of unlocking the possibilities for every girl and woman through the power of sport. WSF is a leading voice driving equity in sport and has positively shaped the lives of millions of youth, high school and collegiate student-athletes, elite athletes, and coaches.
Is there an in-game event requirement to unlock this donation?
The donation is already 100% unlocked, though don't let that stop you from putting in the distance with the woman's community.
What else is Zwift doing to progress women's inclusion within sports?
We're committed to growing cycling participation generally, but especially amongst women. We're proud that our flagship program, Zwift Academy, first launched as a women's only initiative back in 2016. We continue to champion women's cycling today with women's community groups, group rides, campaigns, and of course races. We have committed to complete gender parity and along with the ASO delivered the first Virtual Women's Tour de France in 2020, held on the same courses, over the same distances, and with the same broadcast coverage as the men.