EXPLORE MORE
Eight next-level stages await, each with distinct themes that promise good times at each stop. Because we're always taking fun to the next level, multiple destinations per stage will give you even more to explore—do one or do them all!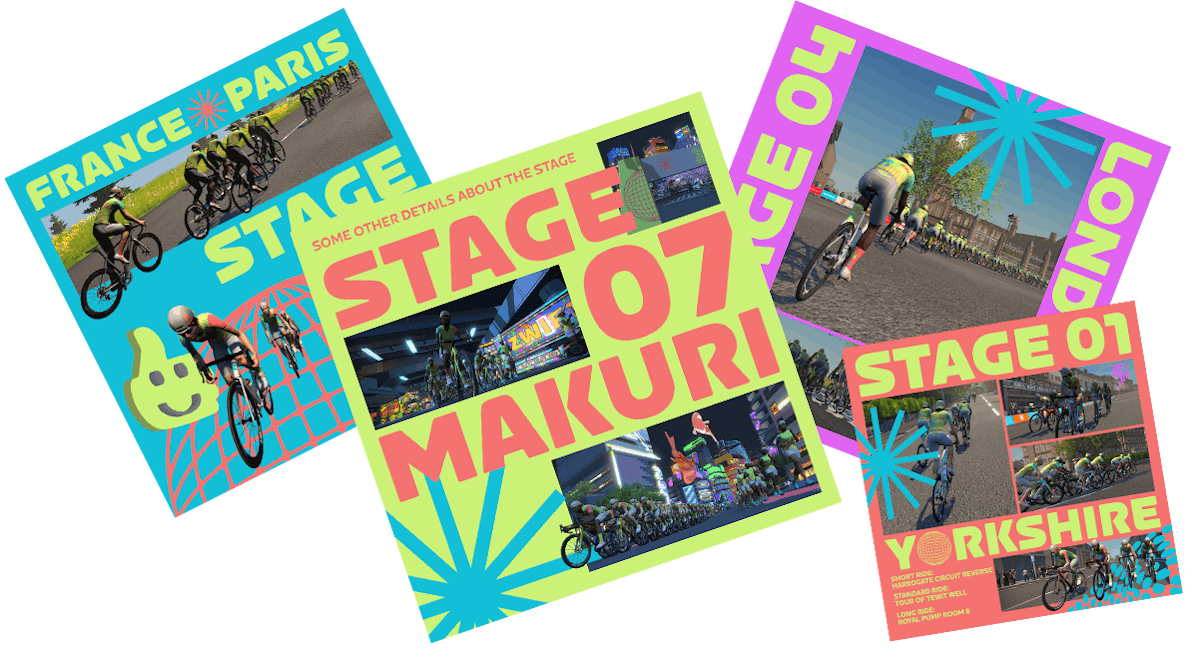 CHOOSE YOUR PARTY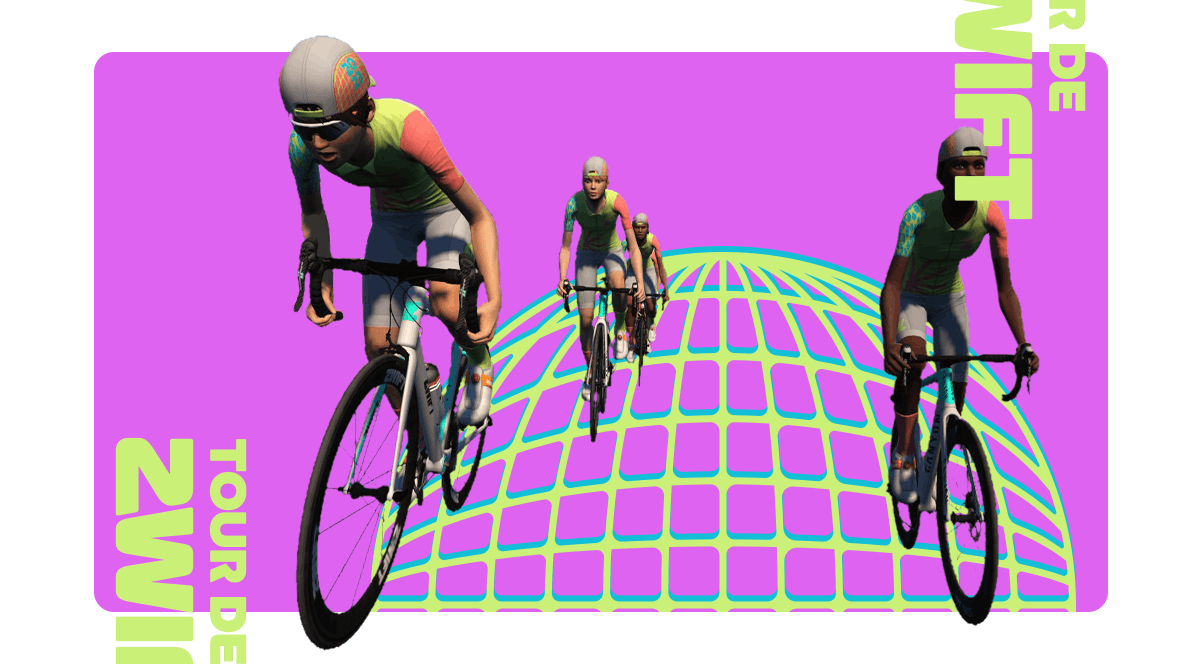 RIDE THE TOUR
With multiple routes for each stage, this year's Tour de Zwift is serving up multiple chances to ride more miles, unlock more badges, and collect even more Tour swag. So top off your bottles and take off on a tour to explore the best (and newest!) maps Zwift has to offer.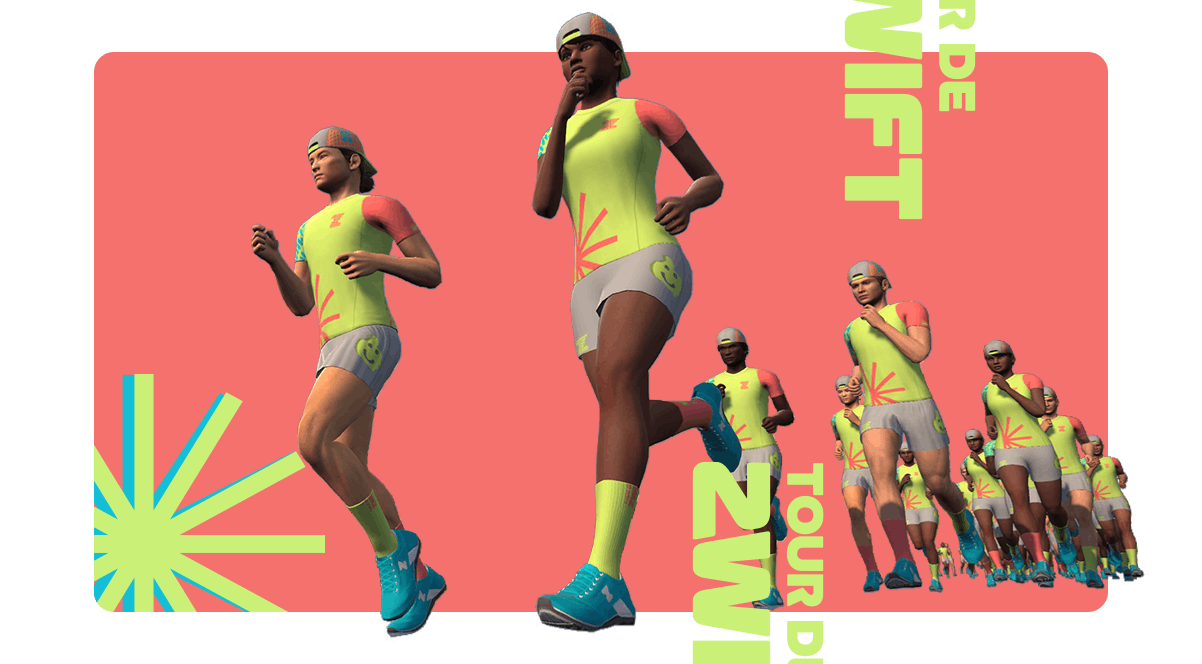 RUN THE TOUR
Want to explore it all on foot? Get stoked because this Tour de Zwift's eight stages feature multiple routes, from high mountain passes to seaside trails—with each one serving up the perfect distance for every runner. Lace up—the party is just getting started!
PARTY ATTIRE:
IRL KIT
Zwift and Pedal Mafia are teaming up to bring the 2023 Tour de Zwift gear to your closet. Get yours in real life to match your avatar in Zwift's largest event!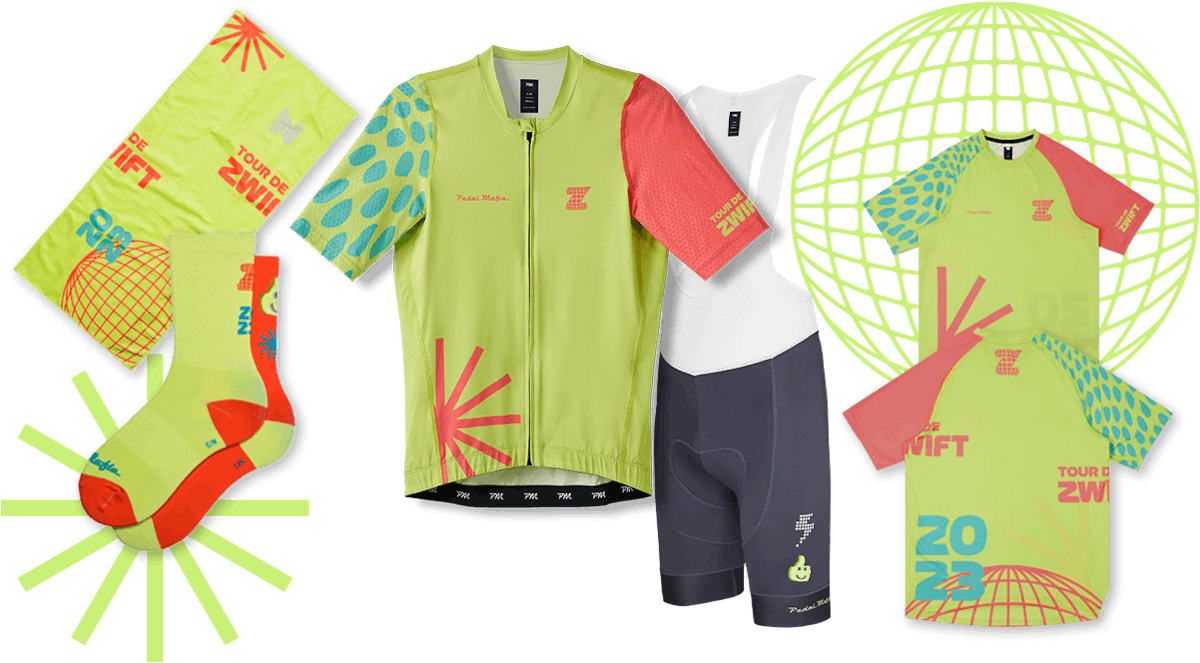 Unlock The Kit
Fresh threads for the party are a must! Tick off enough stages and fill your Garage with commemorative swag—including the entire 2023 kit and Tour de Zwift achievement badge as soon as you finish!
FAQ
What is Tour de Zwift?
Tour de Zwift is the largest celebration on Zwift! With eight stages, you have the chance to ride or run in exciting  worlds with our global  community. Cover more miles, with more friends, all while exploring the wonders of Zwift.
When does Tour de Zwift start and finish?
Tour de Zwift starts on January 9, 2023 at 5 PM UTC / 9 AM PT and ends on February 12, 2023 at 7:59 AM UTC / 11:59 PM PT.
What if I miss a stage?
Don't worry! We also have a make-up week February 6, 2023 - February 12, 2023.
What's new this year?
This year, multiple pacer groups will be available during each event. Join the one that suits you the most and complete each stage at your preferred pace.There will also be new TdZ branded Ride-On bombs. Don't be shy, show your support to your fellow Zwifters by showering them with Ride-on bombs. 
If you plan on riding the tour, new routes and new badges will be featured in multiple stages of Tour de Zwift. Some routes previously only available for events will become open to free ride and will also offer route badges.
The auto-capture feature will also be available which will capture memorable moments as screenshots while you're Zwifting, these can be easily shared on Stava and beyond!
Check out the Tour de Zwift main page to learn more about the routes or check out the Zwift Forum to engage with the community.
How do I give Ride-On bombs?
Ride-on bombs are new for Tour de Zwift for this year - In Zwift Companion, when riding or running, if you press and hold onto the white ring around your avatar's position you will give a special ride-on to the 5 nearest Zwifters. 
Don't have Zwift Companion yet? Check out this article on where to download and all of the amazing features included.